So this week has a mixed bag of events:
On Monday there's a talk organised by the BCS about the Enigma code breaking efforts during World War II – detail @ http://nottmderby.bcs.org/events09-sep.php (plus there's a chance to have a go on an original Enigma).
On thursday we may well pop along to :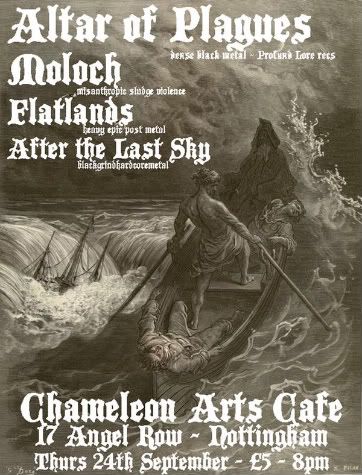 Altar Of Plagues, of Profound Lore Recs fame – http://www.myspace.com/altarofplagues
the mighty sludge doom of Moloch – http://www.myspace.com/molochscum,
North / Eastern masters of monotony and misery Flatlands – http://www.myspace.com/flatlandstouristboard
Blackcore progenitors, After The Last Sky – http://www.myspace.com/afterthelastsky
And it's at Chameleon Arts Cafe, which I've never been to. So hopefully rectify that one on Thursday. Apparently it's above the clinton cards on Angel Row.
Friday night we'll be enjoying Finntroll at Rock City:

And then on Sunday another Torturous promotions Gig rears it's head, Middenhelm+The Atrocity Exhibit+Pure Negative+Anger Management @ The Old Angel in Nottingham.
As part of their "To Victory" tour, Middenhelm and The Atrocity Exhibit are coming to Nottinghams' Old Angel.
Middenhelm were due to play Damaged Stock, but had to pull out at the last minute due to illness. If you were looking forward to watching them, this is the perfect opportunity to catch them in action!
Middenhelm – Epic Black Metal signed to Rising Records – http://www.myspace.com/middenhelmuk
The Atrocity Exhibit – Fast Grinding Crust Sludge! – http://www.myspace.com/theatrocityexhibit
Pure Negative – Former members of Labrat and Ted Maul! – http://www.myspace.com/purenegative
Anger Management – Former members of Murder One and Medulla Nocte! – http://www.myspace.com/angermanagementmusic